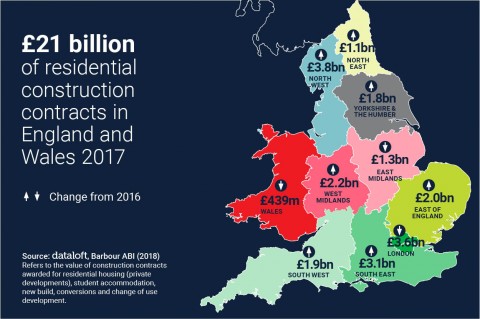 A new report by Barbour ABI has indicated that the value of residential construction contracts across England and Wales in 2017 was over £21 billion.
In all regions, except for London, Wales and the East Midlands, investment in 2017 was higher than in 2016. However, a significant fall in investment across the capital means the total figure for England and Wales as a whole remains on par with 2016.
The North West, West Midlands, and Yorkshire and the Humber have seen the most substantial increases in the value of construction contracts awarded, with significant activity centred on Manchester, Birmingham and Leeds.
Across London residential investment fell by over a third, the equivalent of £1.9bn, to its lowest value in six years. The value of commercial contracts also fell, although infrastructure investment rose thanks to schemes related to HS2.
---